Feature availability and functionality may vary among Cadillac vehicles. Consult your Owner's Manual for specific details.
CLIMATE CONTROLS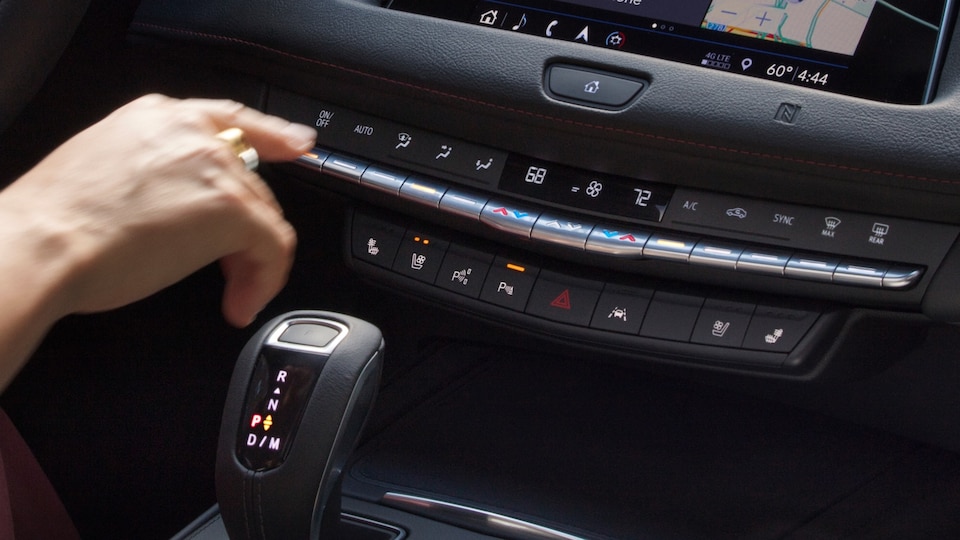 Make your ride more comfortable for you and your passengers through customizable temperatures to cater to individual needs.
MANUAL SYSTEMS
STEP 1
Temperature control: Turn clockwise or counterclockwise to increase or decrease the vehicle's interior temperature.
STEP 2
Fan controls: Turn clockwise or counterclockwise to increase or decrease the fan speed. Turn the dial all the way counterclockwise to turn the fan off.
STEP 3
Air distribution controls: Press to change the direction of the airflow. A light will indicate the selected button. When Defog or Defrost Mode is selected, the airflow will help reduce air humidity.
STEP 4
Recirculation control: Quickly cool the air inside the vehicle or prevent outside odors from entering the vehicle. Recirculation Mode can also help reduce air humidity.
AUTOMATIC SYSTEMS
Automatically control fan speed, air delivery, air conditioning and recirculation to heat or cool the vehicle to your desired temperature.
STEP 1
Touch or press Auto on the display or center stack.
STEP 2
Set your desired temperature. Once the system stabilizes, adjust the temperature for best comfort.
You can also control the following features in Automatic Mode:
• Press the Recirculation button to turn on Recirculation Mode. Press again to select outside air.
• Press the Off button to turn the fan on and off.
• Press Up or Down to individually increase or decrease temperature.
• Touch Sync to link all climate zone settings to the driver settings.
• Touch Rear to open and adjust the rear climate control display.
CONTINUE TO SET UP YOUR VEHICLE
HELPFUL LINKS